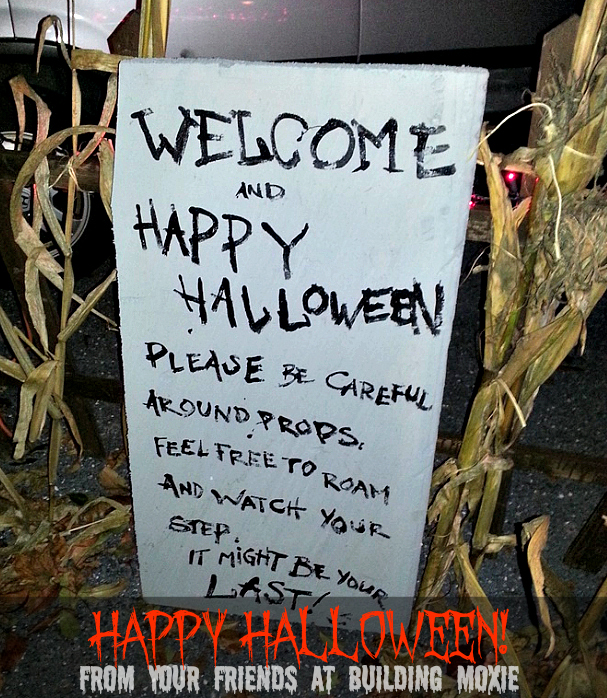 It's probably fair to say that I am not really super huge on holidays.  And it follows I don't really take a lot of time with holiday décor and/or decorations.
This is not the case with Chris and Jen Kolakowski, who for two years running have had the Moxies over for one kick-ass Halloween Party. Chris and Jen are college friends of Mrs. Moxie, and the crowd seemed to grow just a little this year.  I mean – the people probably heard – plenty of great food and creative games, costume contests, kid-friendly (a dream for many in our crowd), and they probably heard too about Chris' artfully crafted and all-in (DIY) Halloween Decorations.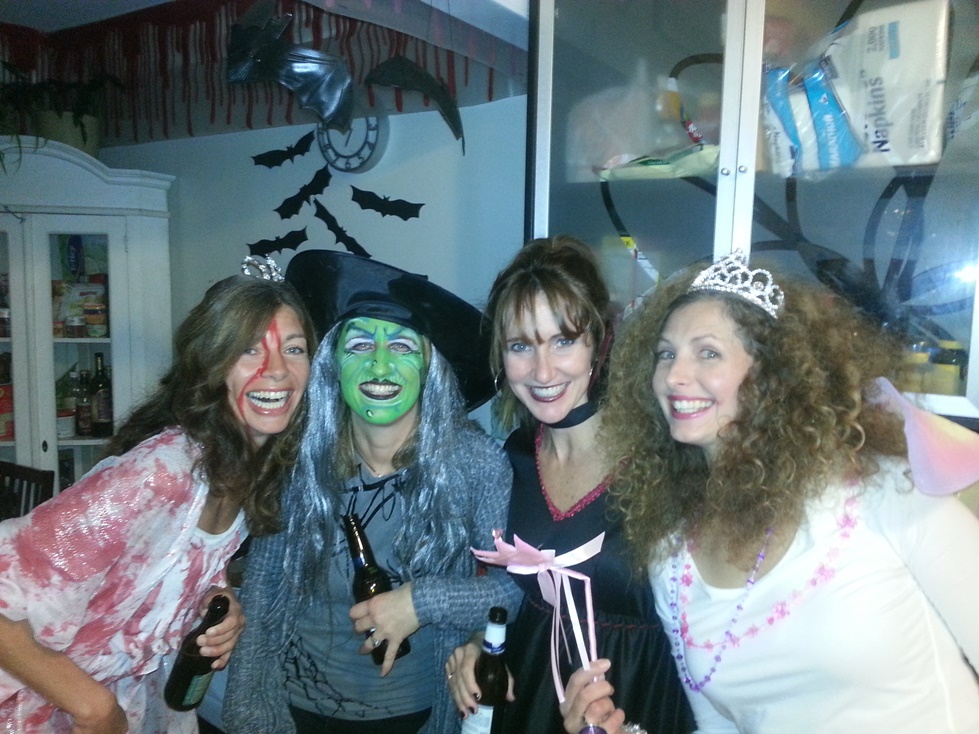 Dawn K (BMoxie photographer), Mrs. Moxie, Caroline R, Jen K.
ringleader and host, Chris K. (below)
Chris, an art teacher at a local elementary school, was raised in a construction family. And prior to discovering the glory of his Halloween, he was the guy I knew simply as, well, Chris – the guy who built a raised mountain bike loop in his backyard. (More recently, we shared a house in Cape Hatteras, NC for a multi-family getaway this past summer.)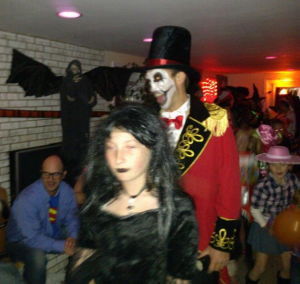 "It's like his Christmas," one of Chris' close friends said.  To put it into context, all the decorations that fill his front yard, and his side yard, and their basement, are said to take up a full shed (which he built, of course) all by themselves.
Apparently, a few years back, it caught the eye of a local reporter, and, well – now, me. I want to give Chris a little love, and maybe you'll find something small too that helps inspire you in your own spooky decorating … okay, maybe next year.
Be it the Halloween-themed sensory station, the neon-glow black-light art work, playland-inspired butcher stations, hanging ghosts, the tombstones, the zombies, skeletons, or the ghouls, it all pretty much wows. But admittedly, what gets me the most – his construction technique, the expert use of among other things, foam board and, well, spray foam, which when painted, I didn't know, most definitely gives the effect of brain or spilled guts … while still doubling as a pretty dang good adhesive.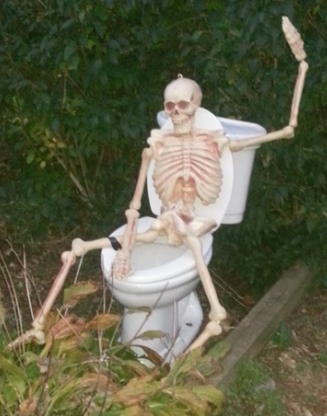 And with that, I'll say – Happy Halloween. Be safe and enjoy. For Chris & Jen – great job, great party. Thanks!  ~ j.b. and yes, the b. is for "boo."
*******