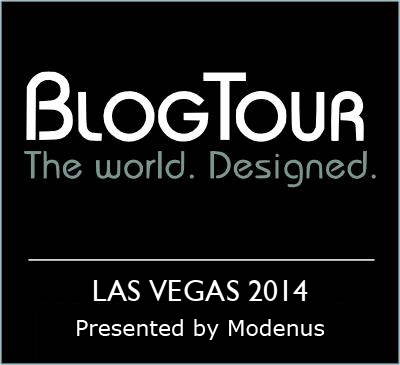 Polar vortex polar vortex polar vortex, I know – I just can't stop saying it, 'cause it's fun to say, and to type, and yep – it's actually felt a little like that around here.
Rolling through Fall and into the holidays, I was in a groove – both with the site and around the house, checking items off the todos with ease.
Full stop, flip the calendar and it seems it's been incredibly difficult getting it cranked up here in the beginning of the New Year. Oh! If I missed you, Happy 2014!
No round ups from 2013 (yet), no dissections of goals and/or plans for 2014 (well, kinda), and little time to think about hacking out posts. Offline, some bad things, some good things, some draw-type things and some great things.
I had signed on board with a new ad network, and you may notice a change in some of the ads at the top of the site… yeah nothing's for free, but maybe these ads will be a little more beneficial for you, and your kinda people – you know – people that visit this site.
*******
One of my biggest goals (okay) for this year was to have Building Moxie hit Design & Construction Week. For the first time ever, it co-locates the two most prominent US-based residential … home shows – the International Builders' Show, IBS, and the Kitchen & Bath Industry Show, KBIS will be running in parallel in Las Vegas in early February.

We've had fine folks kind enough to submit reports on these shows each of the last two years:
* Jeremy Parcels' IBS 2012 Report
* Beth Bryan's IBS 2013 Recap 
* Lisa Smith's What's Hot at KBIS 2012
* & Stacy Garcia's KBIS 2013 Recap

But this year, I wanted to see them for myself, and take Barry too.
>> And here's the point where Veronika Miller stepped in.
Veronika is the visionary behind Modenus and the global phenom – BlogTour. She has led design and lifestyle outings to New York, New Orleans, Los Angeles, London, Cologne (what I know) – and now the BlogTour is headed to Vegas.
According to the press release, and nutshelling BlogTour Vegas, "A team of 15 notable designers and design bloggers from both Canada and the U.S will spend four days spotting the latest trends, seeing the newest products, networking with industry peers, reporting back to their blog and social media audiences in the weeks before, during and after. The team has been asked by KBIS management to judge not only the newly revamped Best of KBIS Awards but the first ever Booth Innovation Award."
A "team," and yeah – me ha!.
"Wai… Wait!  But you're not a designer, jb, and you're not really even a design blogger."
I know. But V (aka Veronika) hit me on G+ with this …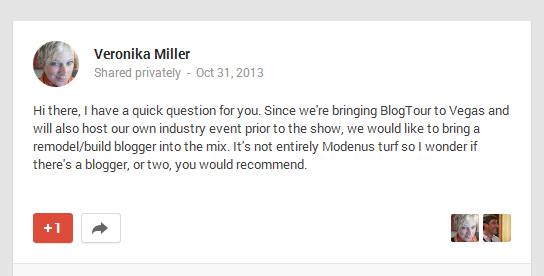 "… a blogger, or two, you would recommend"? Um … and we just kinda went from there.
Now, with me being on board with BlogTour, this allowed me to free up enough $ to also bring Barry. And while BlogTour focuses much of its attentions on KBIS (they are in fact one of the sponsors of BlogTour) and further promises to keep me busy with an action packed KBIS-focused itinerary, you can expect to find Barry wondering around IBS – just looking for someone (like you) to talk to.
*******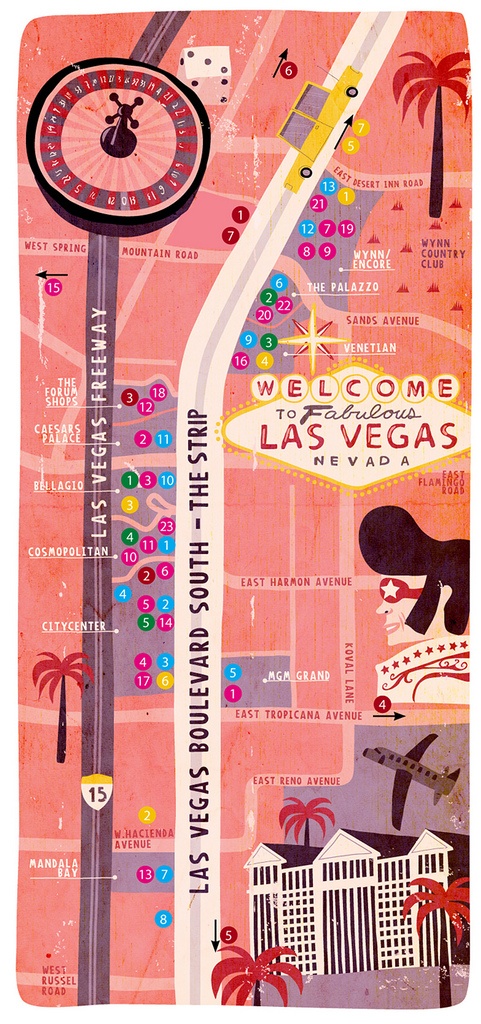 via Design Magnifique on Pinterest
Why go? Well, beyond the honor, everybody that's anybody (the cool kids) will be there. The people, yes, and not talking only about all the gorgeous folks involved in the Tour.
This BlogTour go-round, V is launching an interactive conversation concept called Modenus Talks. The event will take place on February 3rd from 12:00 to 4:00 pm at the Cosmopolitan Hotel (in Las Vegas). V calls it, "speed dating for knowledge." Modenus Talks promises to bring manufacturers, designers, media and other industry professionals together for an afternoon of unplugged round table conversations about design business, design ideas and design technologies. Design enthusiasts can join by submitting questions prior to the event and following the #ModenusTalks hashtag on Twitter during the event.

Why go? The brands, all the great products we'll surely see and the opportunity to report back to you on their latest and greatest. And … I am not talking only about the widely recognizable sponsors of BlogTour Vegas, whose likes include:
KBIS, Mr Steam, Blanco, Poggenpohl, Cosentino, Subzero, Top Knobs, Walker Zanger, TOTO, Wood-Mode & Formica.
Look for reports on each.
*******
Follow along on our adventure via our Twitter handle @BuildingMoxie and via our Building Moxie Facebook Page. Follow the group across all Social Media on the hashtag #BlogTourVegas, via a KBIS 2014 pinboard and via an aggregate of all BlogTour posts.
Thanks to Veronika for having me – yay! 
Modenus is a curated online design resource at the heart of a worldwide community of designers, design enthusiasts and manufacturers. Modenus supports its community with an expansive social media network, editorial excellence and trade show partnerships. Based in the U.S., Modenus plans for 2014 include launching Modenus Germany and further expansion in the U.K and Australian markets.