In an effort to commemorate (even further) our campaign for this year's Remodeling Show, we've had some tape measures made.  That's right, Building Moxie Swag! And yes, our first ever!
Not your normal old tape measures. And sure, they are branded, but they are also a very rare 4-yard tape measure.  Okay, a 12′ tape, but better … labeled with the distinction "4yd". …
You might ask – "Why'd you go do that?" Well, our campaign for this year was called (in full) "106 Yards to the Remodeling Show."  Hence – 12 American Feet = 4 American Yards, and we had 26 and a half of them made.  (Actually kidding on that last part. ha!)
I really hoped to have had them out a little earlier, but we were held up, as I held out, for this particular tape.  It was on back-order for about a month. …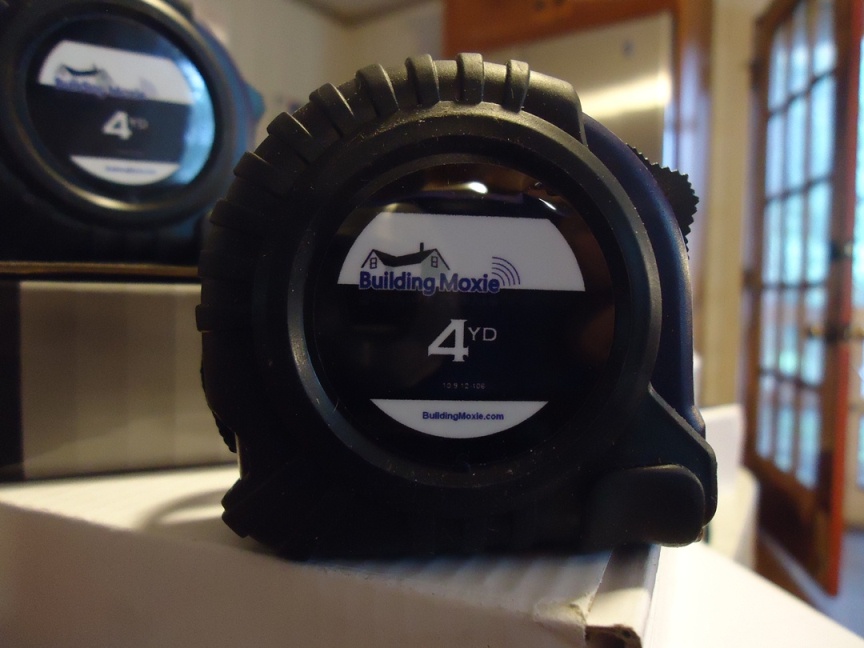 I hoped to use them as an added way to raise funds for this campaign, but maybe I got to it just a little too late.
And while there are a handful going out, to those that saw it on our Building Moxie Facebook page, we would send out, idk, another 5 or 10 … but maybe only with a small supporting donation to one of your all-time favorite Home Improvement blogs. *ahem* And who can have enough tape measures anyway?
Maybe let me know in a comment . . . if this might be something you'd be interested in.
A quick shout here to Michael Prieto of @TShirtsandhats for making this happen.  Our job, I know, was not without hurdles or complications.  Thanks again Michael for accomodating; it was a pleasure working with you and I do love them.
_
Cheers all; good day and please do let me know. Thanks. ~jb
*******