*******
Shortly after a group of us attended Brizo's Fashion Week — #brizofw as it came to be known, we created a Facebook Group page.  Some of the Fashion Week alum before us had created their own Fan pages (Blogger19), and I will sometimes catch that group's postings there (you should Like them too).  But for us, our group of 19 designers and bloggers, the Group-type page seemed instead the way to go.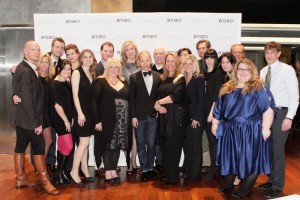 When it came time to name to this Group — and you kinda need a name (at least a working one) before you can even create a page — some ideas were (lightly) tossed around.  But it was Eric "Easy-E, cut-concrete, Stache-man" Miller of Studio M who dropped what we ultimately decided to go with . . . "the Dream Team" (and, yeah — we all admit it probably could use some work).  From there though, this page has grown into a sort of social media sanctuary for many of us . . . or at least for me.  A place where "shameless self promotion" seems just a little less, well, shameful.
The page only up a few weeks, and our group still buzzing from #brizofw, we received an invitation from the wonderful Paula Cecere.  On behalf of GE Appliances, she was inviting us to a session of the GE Monogram Experience.  In June, we would visit GE's Appliance Park, and be trained by pro chefs to prepare meals using Monogram equipment.  But as some of that initial Brizo group had other engagements, a few did bow out (and you were missed) — but others were added . . . and to our Facebook Group page too.
At it stands, this Group contains 24 members (with open invitations to three others — *ahem* you know who you are).  We frequently share (almost daily) on what we each are doing . . . .  And occasionally we discuss opportunities to promote the group as a whole, as a package, but truth — the phrase "reality show" has only actually been used once (*wink* Patricia Brown Davis).
*******
And so why do I tell you all of this?  Well, while I haven't had the time to jot down my own thoughts on the Experience (as many of us have come to call it), I wanted to give a nod to some of what these other super-talented folk had to say.  And yeah, I know it is now August, but my take on the 21C Museum Hotel (Red Penguins!) will have to wait, the "Tornado of Awesome" turned "Tornado Warning in the Shower" will have to wait, and so will the . . . GE Appliances' (its own zip code) Monogram Line; it will have to wait . . . probably yet another month, or maybe soon, or maybe never and uggg! I missed my window.  But nonetheless, it is always fun to revisit, and please enjoy these other postings:
#designtv co-creator and designer to Nova Scotia's ultra-lucky, Jonathan Legate can cook >> http://jonathanlegate.tumblr.com/post/6865742541/ge-monogram-experience-cooking-competition.
A walking encyclopedia of all things style, Raina Cox features some BFFs and gets a little bonus time at the Speed Art Museum >> http://ifthelampshadefits.blogspot.com/2011/06/louisville-friends-food-red-penguins.html.
Living the dream — Carmen Christensen, and my partner during Brizo Fashion Week, likes her penguins the color of her wine.  BUT she sure makes lemons sweet >>  http://time2designinc.blogspot.com/2011/06/red-penguins-cooking-friends-iron-chef.html.
The Cookin' Canuck, Q-master A, Arne Salvesen writes aboot the Iron Chef's finer points >> http://www.usefulspaces.net/2011/06/cooking-up-storm-with-ge-monogram.html.
This Saucy Southern Sista, the could-quit-the-day-job and do it full-time . . . or just create a fabric line, Madame Sunday serves a spin on Beverly Hills 90210 >>  http://modernsauce.blogspot.com/2011/06/appliance-park-90210.html.
Boston in the house! And if you're cooking, I'm wicked eating, Michelle Cortizo remembers the menu and gives us the secrets to an Experience fav . . . "Breakfast Salad" >> http://www.cortizodecor.blogspot.com/2011/06/ge-monogram-journey-as-guest-of-ge.html.
Give me whiskey or give me a piano bar, builder and trained designer, Jeremy Parcels details Monogram's impressive offerings >> http://blog.rjmbuilds.com/2011/06/28/the-monogram-experience-and-advantium-goodness.aspx.
Aforementioned Eric Miller pretty much captures it for me.  Like jello-wrestling with graphics and words; enjoy! >> http://www.interiorsbystudiom.com/blog/2011/06/ge-monogram-experience/.
Long lost sister (from the north), Lori "the Real Deal" Gilder highlights Monogram's features . . . and the fun >> http://www.diaryofarenovation.com/cooking-experience-louisville/.
Saving the world one yoga class, I mean — edgy design at a time, Patricia Brown Davis calls it "Imagination at Work" >> http://www.digthisdesign.net/digthisdesign/2011/07/ge.html.
And last but not least from Building Moxie's own co-editor Barry "the Very" Morgan — "Thank You GE" >> http://www.buildingmoxie.com/2011/07/an-open-blog-post-to-ge-my-host-for-the-ge-monogram-experience/.
*******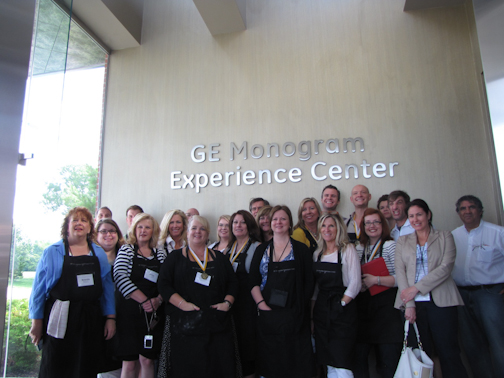 *******
A quick shout myself to Paula Cecere, Valinda Wagner, Nancy Wolfe, Chefs Joe and Brian, as well as to the entire team at the GE Monogram Center; my thanks as well . . . . Wow! What a fun and valuable, well, Experience.
I'm sorry if I missed any, but hey, you know! . . . I'm out, and next week too, but my man Barry has the reigns . . . you'll have to stop in to see what happens. Thanks for reading and great weekend all. ~jb