Today marks the opening of the 2012 NAHB and Hanley Wood sponsored Remodeling Show.  And as you know, Building Moxie has had the opportunity to "work with" and attend this industry-leading trade show, this the third year in a row.  Our campaign this year called 106 Yards to Remodeling Show culminates, you could say, with actually attending the Show.  (I am fortunate that is being held in my hometown of Baltimore this year.)
As it stands, both Barry & I have plans to be on the Exhibit Floor (perhaps wandering like nomads) both Wednesday & Thursday.  Come say hi! (I'll be the guy carting around a duffel bag full of 4-yard tape measures.  And yes, Shhhh. You didn't hear that and it really isn't that many.)
I have generally kept our appointments and obligations light this year, as to get maximum value from our time with product exhibitors and on-the-floor presentations.  I do however have one big obligation. You may have heard, Oh! Oh! You haven't?  Well I am participating in my first ever panel discussion.  Wilsonart's "Ten Remodeling Tips to Help Give Customers the Look for Less."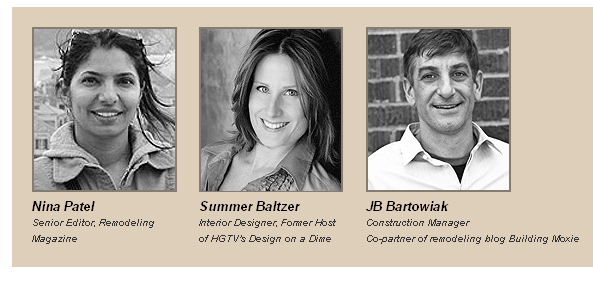 Here's the promo: "Win and keep customers by giving them the look for less on a kitchen remodeling project with advice from design and installation experts Nina Patel, Senior Editor at Remodeling Magazine; Summer Baltzer, Interior Designer and former Host of HGTV's Design on a Dime; and JB Bartkowiak, construction manager and partner of remodeling blog Building Moxie."  That's right, there I am! (And I'll just overlook the misspelling of my name.)  But, yes, I am a little nervous but also pretty stoked.
Attendees should be pretty stoked too, because Wilsonart (the sponsors of this event) is awarding two attendees $1,000 each.  So see just another reason to show up Wednesday, October 10, 12:30 – 1:30 pm Remodeling Show Workshop Area.
Wilsonart Hosted Events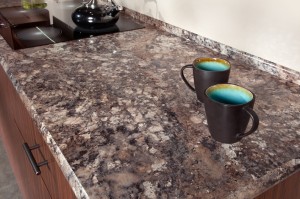 During the Remodeling Show, Wilsonart International, and specifically their HD line, is hosting a number of events, beyond just the one they asked me to be involved in.  Throughout the three days of the Show, Wilsonart will be holding demos, will be giving away wondrous prizes, and will also be hosting a tweet-up.  Their Booth #5722.
This tweet-up will be dedicated to kitchen remodeling on a budget (and will go off simultaneously with our panel discussion).  Participants can use the hashtag #DreamKitchen as well as #RMshow.
Front and center in the Wilsonart booth will be HD's latest offering Winter Carnival and Summer Carnival – the newest additions to the Wilsonart HD Laminate Collection.  (It has been said that these are inspired by the luxurious, exotic, natural granite out of Brazil that includes large-scale elements, exquisite veining and striking colorations.)  They will part of yet another giveaway for remodelers attending the Show.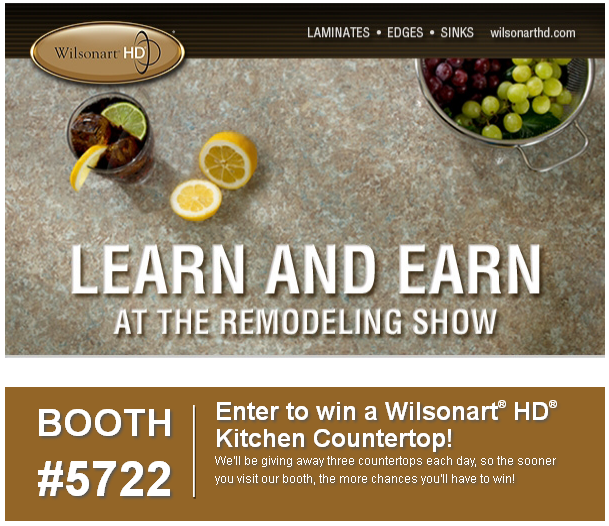 *******
Building Moxie (and the Wilsonart team) wishes you safe travels, and looks forward to seeing you at the Show! For more information, please find Wilsonart on Twitter and HD on Facebook.  Thanks for reading, and Oh! before I forget, wish me luck. ~jb
Wilsonart is a sponsor of Building Moxie's 106 Yard Fund. (Thank You!)